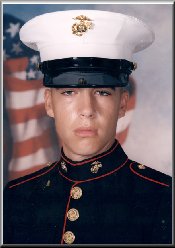 Isaac Croteau, age 20, Rate: LCPL - from New Hampshire.

Message from Paul Croteau:

We got word last Monday that my nephew was wounded near Fallujah
and was being flown home. The bad news is he took three rounds
to the face, in jaw, teeth and nose. The good news is, he's in
Bethesda Naval, best damn hospital in the world. And, as of
Thursday, they took him out of ICU and off the ventilator. He's
able to speak somewhat and made it immediately known that he was
hungry....now THAT'S A GOOD SIGN!. He's 20 and strong and has
the Croteau stubborn streak. He'll make it. I've got some friends
with medical knowledge and they all indicate that the reconstructive
surgery(s) will take a year and a half, maybe two years to complete.

But with all the advances that have been made, physically, he should
be good as new. Makes you think. But for the grace of God, that could
have been any one of us...

Thanks Paul for the update, and we are all praying for his Recovery




Dear God, help Issac Croteau on his recovery from his wounds that
he suffers from and give him long life, good health, and all the
gifts and fruit of Your Spirit. Fill the hearts of his mother,
father, uncle and frineds with hope as Issac Recovers.

Protect Isaac friends and all our men and women who even now serve
the United States in one of our Armed Forces as once again we find
ourselves at war.

"No Marine was ever honored for what they received.
Honor was the reward for what they gave."